2020 IEKTopics|Taiwan's Technology in Southeast Asia
IEKView
Cross-region Innovation Mindset
Taiwanese industries have been actively expanding into the Southeast Asian market in recent years. However, since the respective local markets are very different to that of Taiwan and many related regulations are not quite comprehensive, businesses have to gather information on their own and adapt the applications of their products and services according to the individual markets. These actions would include conducting cross-region innovations and producing innovative products and business models.
In order to provide comprehensive solutions for the emerging markets, Taiwan should cultivate internationalized cross-industry talents and encourage the export of Taiwan's industries and policies. In addition, Taiwan should set up a more flexible regulation environment, and further promote knowledge related to emerging markets and innovative business models among Taiwan's administration and financial agencies so that businesses can receive more support from the public agencies when they innovate and expand overseas. This is also a good way to build the diverse resilience and global influence of Taiwan's industries.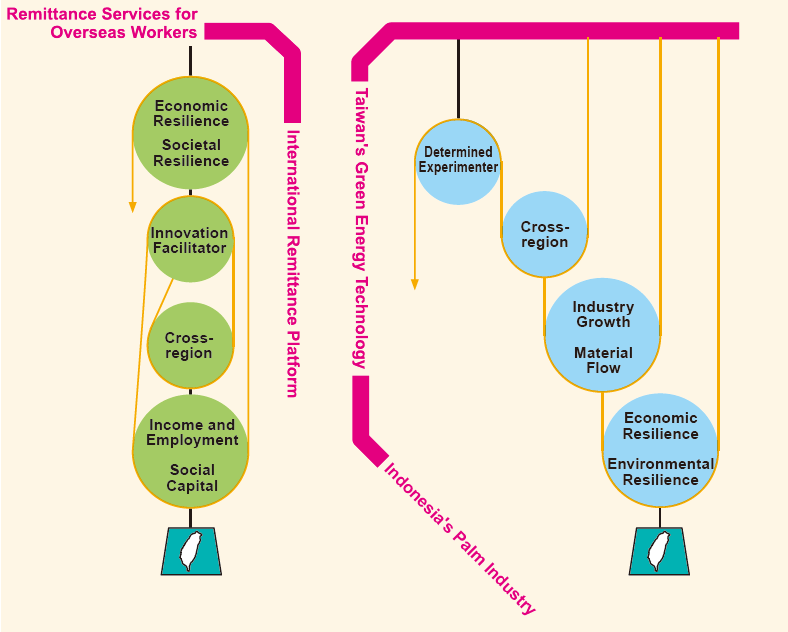 Case 1
Case Title: Welldone Company / Q-Pay APP
Cross-domain Element: International Remittance Platform × Remittance Services for Overseas Workers
Value Created: SEA workers can safely and easily transfer money back home without the risks of dealing with underground black markets.
Case 2
Case Title: Controlnet International Inc., Induk KUD / Jambi Province (Indonesia) Green Energy Micro-grid and Rural Economy Development Project
Cross-domain Element: Taiwan's Green Energy Technology × Indonesia's Palm Industry
Value Created: Taiwanese technology deployed to generate stable electricity supply in indonesian rural villages.