2020 IEKTopics|Your Technology, My Solution
IEKView
Cross-application Innovation Mindset
Demands yet to be satisfied for a long time in the market can finally be addressed with the application of existing or emerging technology, thanks to the cross-domain collaboration and endeavors of Innovation Scouts, Innovation Facilitators, and Determined Experimenters. Furthermore, by integrating investment from different business sectors in innovation, we can facilitate product value add-on, industry innovation, and upgrades. The process would require a nurturing environment for innovations, the integration and communication of cross-domain personnel, and complete industry infrastructure. In terms of systems and policies, they must allow necessary failures that occur during the long journey of innovation cultivation. The environment should offer more support (research budget, human resources, cross-domain matchmaking platforms, etc.), and assistance in innovation product review regulations to help the development of innovation.
We should work out how to utilize cross-domain innovations that are efficiently and flexibly, to help industry and society create value but also reinforce resilience. At the same time, it is essential to build an appropriate ecosystem of collaboration and development for industries, academia, and research organizations. We also need to improve the integration of cross-domain and emerging technology applications, to swiftly assist the industries more intelligent, commercialized, and internationalized. All the measures mentioned would be the key to strengthen the robustness of Taiwan's industries, and connect with global.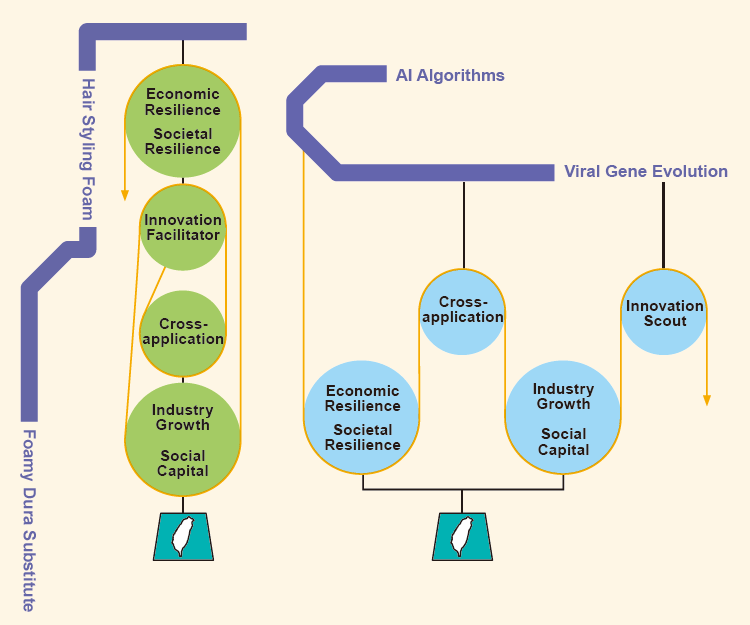 Case 1
Case Title: Taiwan Biomaterial Company / Foamagen Dura Substitute
Cross-domain Element: Foamy Dura Substitute × Hair Styling Foam
Value Created: Creating innovative biomedical material inspired by hair styling foam technology.
Case 2
Case Title: Graphen, Inc. / AI platform
Cross-domain Element: Viral Gene Evolution × AI Algorithms
Value Created: Using AI technology to predict viral transmission routes.