2020 IEKTopics|Resilience Can Carry You Through All Challenges
A People-oriented Approach: The Way to Success for Cross-domain Innovation
For cross-domain innovations to succeed, one must remember that people is the key and innovation roles are the core. We summed up four key innovation roles from our case studies: the Innovation Scout, Innovation Facilitator, Determined Experimenter, and Resource Initiator. Innovation Scouts search for information related to cross-domain innovations. For example, Dr. Ching-yung Lin, the founder and CEO of Graphen, Inc., borrowed the solution initially applied in human behavior prediction and financial data security management and deployed it in the biomedicine industry via cross-domain application methods. Innovation Facilitators merge innovative ideas with technologies and market trends, and evaluate the possibility and potential of developing the combination into innovative products or services. For instance, when Toyota-HY Project Consultant Cristina Zubillaga and her team developed the acoustic vehicle alert system (AVAS) for their next-gen electric vehicle, they introduced a device that emits a specific frequency of sound which also helps to stimulate plant growth. Determined Experimenters are the experts who solve problems. They are constantly transforming new ideas into prototypes. An example would be SAP's Global Lead for Cross-Generation Intelligence Annice Joseph who is promoting multi-generational collaborations within the company to generate co-creation solutions. Resource Initiators connect ideas with resources for execution: Hondao Senior Citizen's Welfare Foundation set up the National Mutual Assistance Connection Center in 2010. Volunteer service groups from all over the nation can interact and share their resources on the platform to help take better care of elderly community members that live alone.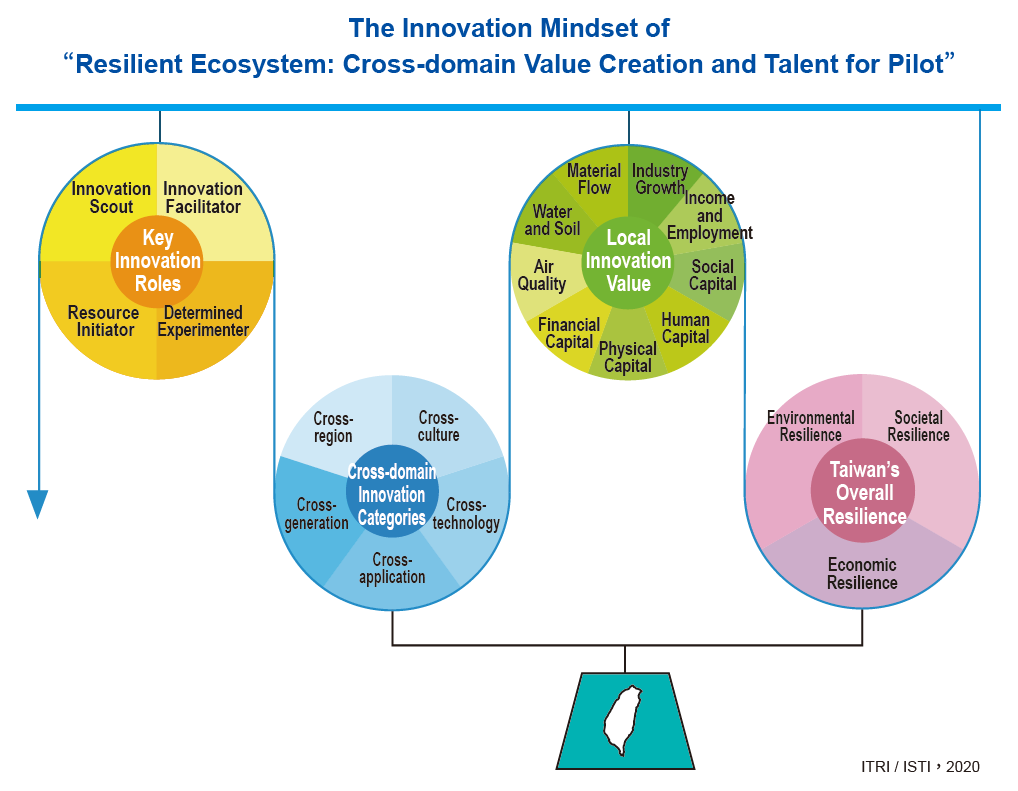 Five Cross-domain Innovation Categories from Our Case Studies
Different cross-domain innovation categories will create different local values. From our case studies, we summed up five cross-domain innovation categories: Cross-region, Cross-culture, Cross-technology, Cross-application, and Cross-generation. Cross geographical region innovation means applying solutions deployed in area A into area B. For example, Science Exchange's bio-research platform serves as a matchmaking place for bio-research needs and services around the world. Cross-application innovation uses domain A's technical solutions to satisfy domain B's specific requirements. An example would be Taiwan Biomaterial Company Limited's Foamagen Dura Substitute. The product basically borrowed foam hair gel technology from the chemical industry and used it in brain surgeries. Cross technology innovation combines technologies from domain A and domain B to satisfy or create new demands, such as Stanford University's Folding@home project. The project joined distributed computing technology with protein folding analysis technology to explore possible cures for diseases that are currently uncurable. Cross generation innovation is the co-innovation and collaboration between different age groups and generations. An example would be the elderly residents and university students who share the same living space at Taipei Yang-Ming Senior Citizens' Housing. As participants of the co-living program, student residents are required to contribute some of their time to the community as part of their rent. Cross culture innovation leverages the diversity and content of different cultures to find new ways to satisfy unsolved demands. For instance, Asprey's bulletproof coffee is the innovative product which merges Tibetan tea drinking culture with American coffee culture.
Resilience Strength is Defined by the Creation of Local Value
Resilience strength is closely related to the creation of local value. A diverse resilience system may include economic resilience, societal resilience, and environmental resilience. Economic resilience is the ability of the economy to return to its original growth level or produce emerging growth directions after an incident occurs. This generates income and job opportunities, and boosts industry growth and maturity. For example, the green energy grid and economic fostering program deployed in Jambi Province, Indonesia, is a collaboration between Controlnet International Inc. (Taiwan) and Induk KUD (Indonesia). Societal resilience is the recovery, adaptation, and transformation capabilities of individuals, communities, and society after impacts occur. It also includes their ability to become stronger after the disruption. Possible local values generated in this category include social capital, human capital, physical capital, and financial capital. For example, "Well-being together at Guandu" project designed by Taipei National University of the Arts gives professors and students a chance to expand their social networks by going beyond campus and interacting with Guandu's history, culture, and community. Environmental resilience is the maximum capability to reduce environmental risk related to new challenges. This can improve local values such as air quality, water resources, soil, and material flow. An example would be the waste recycling platform by Da Fon Environmental Technology Co. which integrates IoT technology, smart scheduling, and AI image recognition technology to enhance recycling efficiency.
The conclusion of numerous case studies in 2020 can be summed up to one important innovation mindset: cross-domain innovations should originate from a people-oriented perspective, and transformation and upgrades will lead to diverse resilience capacities.